NeoGraft™ Automated Hair Transplantation Procedure

Neograft:
A Gentler Approach to Hair LossThough hair loss is not a life-threatening condition, its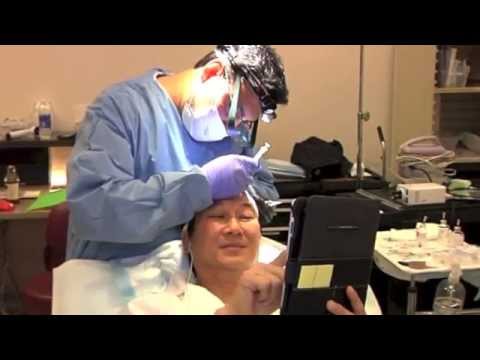 consequences should not be underestimated. More than 50 million Americans, including as many as 21 million women, suffer from premature hair loss. In some cases, hair loss can damage self-esteem, raise anxiety and, in extreme cases, lead to depression.
While traditional hair transplant procedures, called strip harvesting, can be quite effective, they require surgeons to cut a significant portion of the scalp from the back of the head. This causes pain, scarring and other side effects.
However, Neograft does away with the cutting, eliminating the tell-tale scar and improving recovery times. The procedure is actually quite simple. Using the Neograft system, individual follicles from the back of the head are implanted where they are needed most. There is little discomfort as no stitches or staples are used. This allows patients to wear their hair short if they prefer. And Neograft is an outpatient procedure.
Experience CountsWhile Neograft is a sophisticated approach to treating hair loss, it's only as effective as the surgeon operating it. Dr. Walter Tom started his career as a vascular and transplant surgeon before moving into cosmetic surgery. As a trusted surgeon in the North Bay for more than 25 years, Dr. Tom has been a leader in introducing new technology to California. Intrigued by the Neograft approach, he became an early adopter, bringing the procedure to the North Bay. Even more importantly, he has had the procedure himself.
"As a doctor, I felt it was really important to go through this experience, and I'm very glad I did" says Dr. Tom. "I'm offering it to my patients and what better way to be able to explain firsthand exactly what they will go through. I noticed in photographs that I was losing my hair and it was beginning to bother me. I knew that, if I had this procedure, I'd improve my appearance and be better able to relate to my patients."
Dr. Tom was impressed by the Neograft on a number of levels. First, the actual transplantation process was quite tolerable, much more comfortable than he expected. In addition, the recovery time was fast. Most importantly, the results have been excellent.
"During my procedure, I was on my iPad watching a movie, it was just an easy, simple process," says Dr. Tom. "I had the procedure done on a Friday, and I was back at work on Monday"
A Team Approach
With more than 25 years experience in the operating room, Dr. Tom is more than a gifted surgeon; he is also an educator, providing workshops to train fellow cosmetic surgeons and plastic surgeons on the latest techniques. In addition, he has built a top-notch hair transplant team that provides personal service and excellent results.
Though some might view hair transplantation as "minor surgery," Dr. Tom feels all surgeries are serious and require the utmost care. This starts with the initial consultation and planning through the procedure and recovery. Dr. Tom believes every patient should completely understand their procedure long before they enter the surgical suite. As a result, Dr. Tom and his team personally evaluate each patient. Even more importantly, they are there to answer questions through the entire continuum of care.
This personal, professional care is what sets Dr. Tom's practice apart from other hair loss services. In fact, Neograft is not even available at hair transplant chain stores.
"It makes me feel great when somebody walks back into the office and you can see them smiling, you can tell that they feel great about having their hair restored," says Dr. Tom. "This is a one-time investment that you will reap rewards every day for the rest of your life."
Top 10 Reasons Dr. Walter Tom uses The NeoGraft™ Hair Transplantation Procedure:
Least invasive procedure for hair transplantation
Patients feel little to no discomfort
No stitches or staples
No linear scar, hair can be worn short
No numbness where the donor hair is harvested
Shorter recovery time
Less activity restrictions after procedure
Patients can typically go back to work the next day
Transplants roughly twice as many hair grafts as manually FUE
Cuts the cost of a manual FUE treatment by as much as half
Before & After Photos (please click to enlarge)

Dr. Walter Tom on "Ask The Expert"
KSRO Newstalk 1350 every Thursday from 12:30 – 1:00 PM